Allan used to get his hair done once a fortnight at a barber in Didcot before taking the train to Paddington followed by the tube to Ladbroke Grove. Then we'd meet at the café stall tucked in the back of a small indoor market on Golborne Road for cups of tea and fried egg muffins. In the next stall someone sold obscure rock and roll records from the early fifties and our fingers would drum along. Later, Allan started going to Syd Strong in Camden, but he never asked for a Tony Curtis.

Andrew moved between quiff up and fringe down and twirled around a few barbers before settling on Syd Strong. It was Andrew that introduced Allan to this fine coiffure emporium. Andrew was dealt with every three weeks and was the owner of a fine collection of pomades, including Black and White, Royal Crown, Brylcream and an Old English Lavender Particular. Neither Andrew nor Allan were ever asked if they wanted anything for the weekend, a source of great disappointment to both of them.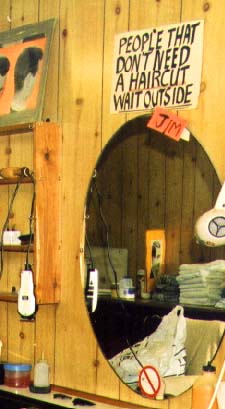 Clynchy maintained a quiff through the use of chemicals he was never prepared to divulge. He was also fairly secretive about his barber, mentioning only that he was somewhere in south west London and boasted a fine collection of plastic floral arrangements that surrounded cracked photographs of extras from 'On the Buses'. It was something to take Clynchy's mind off the stout gentleman with the camel coat who would invariably be sitting in the next chair, and who had known the cut throat razor not as a barber's tool, but as a staunch companion at occasions well known to the Earlsfield police.
Johnny visited Chris at The Great Gear Market in the King's Road every four weeks. As there were roots to be peroxided as well as cutting to be done, this took around two hours. Sometimes, Chris and the other hair artiste filled a basin with ice and stuck a bottle of vodka in it for refreshment during the operation - then it took a little longer. Initially the do was a two-tone affair blonde and floppy on top, and brunette at lower levels. Then it became a fully blonde Jean Seberg facsimile. Later on, Johnny said the big goodbye to blonde and started using Sorrento by L'Oreal. This was rotated and mixed with Santiago and Santa Cruz (never trust a hair dye that calls itself anything as mundane as 'Reddish Brown' - mundane names lead to mundane dos). The style meandered between a shampoo and set inspired by Cat on a Hot Tin Roof and a gamine thing for which the credit goes to Audrey Hepburn.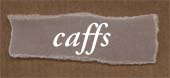 Battista's in the Charing Cross Road. For cappucino and sandwiches before window shopping in Denmark Street for guitars we couldn't afford.
Ten years later, this was the scene of a meeting between Peter Hahndorf, Jimmy Tassos, Jon Parker and Johnny Johnson where Slum Clearance was born. The coffee was still good, but the sandwiches had got more exotic. There were no sun-dried tomatoes in the 1980s.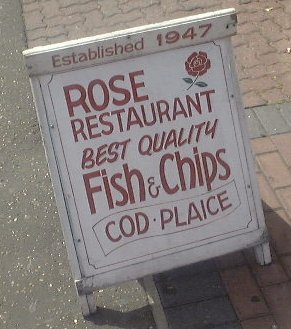 Café Espana in Old Compton Street. Now, sadly, a noncy restaurant. When The Siddeleys frequented the place it was only closed for about three or four hours a day, between 3 and 7am. This made it ideal for Soho afternoons or post-gig/club recovery. After midnight, there was often a particularly dismal pimp who would sit with three or four of his girls at one of the tables. He had a low voice that was as hypnotic as it was menacing - it seemed to have a grimly gentle mesmerising effect on the round faced girls who picked at their nails and chain smoked.
Mike's Café, Notting Hill. Before this became M Café and brioche replaced tea and two slices, you could fit a pop group into one of the booths and whatever plans you made seemed easy. There was always room for newly filled Rough Trade bags under the table, too.
Rose's, Southend. There was a hair in the custard on more than one occasion, but the excitement of desperately grabbed at days by the sea from several decades of customers had seeped into the lino, lending Rose's a special joy.
Tottenham High Road. I forget the name of this place and we only went there once. It deserves a special mention though as it had the best phonetically spelt menu ever. It was run by a family of eastern Europeans who spoke hardly any English. The whole family lined up smiling to greet us when we went in, like a scene from 'The Sound of Music' and then waited on us in their entirety, as if we were honoured guests, visiting them at home. The menu was obviously based on someone asking for help in writing the names of dishes, who being hard of hearing had completely misunderstood what he was being asked to spell. Hence 'One egg, chips, peas' had become 'One-eyed gypsy'.
We didn't pass through Tottenham often enough to call again, but one-eyed gypsy was forever part of our vernacular. I hope all is well with the family - I would have trouble finding the place now.