Sunshine Thuggery I
"It irks me when I see records such as this being dismissed as indie pop or whatever. I always feel that this is missing the point. Their early stuff wasn't particularly impressive but what I like now is that the woman who's in charge of the band has a terrific way with words in almost the manner of Morrissey. There are lines in here which make me laugh out loud."
NME 22 October 1988 - John Peel's top ten. Also included the Wedding Present, Mighty Force and A Guy Called Gerald
Sunshine Thuggery II
Auf dem Cover sehen wir sich prügelende Rocker und Mods am Strand von Brighton. Das erinnert mich an die Szenen in den Film 'Quadrophonia'. Auch der Titel "Sonnenschein Gewaltverbrechen" verheißt nichts Gutes. Doch die Musik hat nicht mit all dem zutun. Wunderschöner Girlie-Pop der späten Achtziger. Obwohl auf dem Cover als Sänger ein gewisser Johnny Johnson verzeichnet ist, und auch der NME ihn als HIM bezeichnet, ist sie für mich auf jeden Fall eine Frau. Das Titelstück erfreut mich schon mit tollen Gitarrenläufen, doch bei "Are you still evil when you sleeping" laufen sie zur Hochform auf. Etwas melodischer geht es bei "Falling off of my feet again" zu, aber auch hier bin ich vom Gitarristen Allan Kingdom begeistert. Dafür hat er wirklich ein Königreich verdient. Das letzte Stück klingt etwas nach McCarthy, ist aber trotzdem das schwächste der EP. Jetzt bin ich wie wild hinter der ersten Single "What went wrong this time" her. Falls einer von euch diese loswerden möchte, bitte sofort bei mir melden !!!
Anorak, Can I Just Say Sweatshirt fanzine, December 1988 - Peter Hahndorf
A flexible friend
Medium cool has improved somewhat. From its inauspicious beginnings as the only flexi-label in town dealing in mediocrity this side of the fanzine revolution, it has progressed to hard vinyl and decent bands. This week sees the release of their fifth record - What Went Wrong This Time? - a three track 7" EP from debonair Londoners The Siddeleys.
A gently teasing lament with cool female vocals and a lilting backing which trickles around the back of the nervous system with deceptive charm, 'What Went Wrong This Time?' is the Black Horse's answer to the overt flamboyance of The Smiths, making Morrissey's winsomeness sound positively brutal in comparison. The run-out groove rather cryptically exclaims 'Vehicles and violence again…', but it'd be difficult to find a politer, more poignantly insecure band whose song-titles include the perennial 'My Favourite Wet Wednesday Afternoon', and members number a stockbroker and a squatter.
At the bottom level, the importance of bands such as The Siddeleys and their contemporaries cannot be overestimated; creating a medium for fellow music enthusiasts to take comfort in and draw inspiration from…it's enough to know for now that people still take a simple pride in writing good tunes. 'What Went Wrong?' is so delightfully unassuming it could well end up being overlooked: it's up to you not to let it.
NME 19 September 1987 - The Legend! (Note: No one in The Siddeleys was ever a stockbroker, although Allan often carried and ancient brown briefcase. Johnny did live in a squat in Bermondsey though, where she wrote 'My Favourite Wet Wednesday Afternoon' before The Siddeleys were formed.)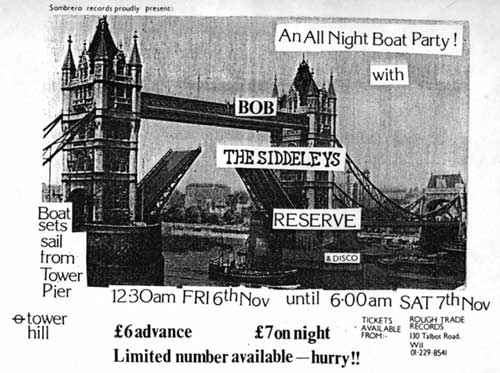 Sounds - Walthamstow Royal Standard Notty Nuff Ballroom
Take a walk where angels fear to tread. Down a pop side street lined with cynical trees which allow pretty girls with short skirts and dinky white socks only two influences. Take your choice: The Smiths or Tallulah Gosh!
Appearances can hammer the roundest of pegs into the squarest holes. Of course, The Siddeleys live in that part of town, but they arrived off the last boat to Giro with a loose-lipped sneer and a hatful of splendidly unkempt songs.
'I want to spray paint your name on every road so people will walk on you wherever they go!'
Wherever You Go' was one of the most accurate love songs of the summer. A one-time Sha-La-La flexi, it reveals both the common denominators and the wild differences between The Siddeleys and their neighbours.
Yes, this girl called Johnny sometimes sings a little like Amelia Fletcher, and bereft of her guitar she looks every inch as awkward. But the songs are very different and there's a lot of Patti Smith here too.
With crisp guitar, a gasp, a cry and occasional kick, The Siddeleys are an unselfconsciously elegant expression of untidy emotions.
Roger Holland (Sounds)
London Black Horse
The homage an acolyte pays to a king; the roots lie with the blonde and are there to be built upon. Tiny fists clench tightly in mid-air as if to ward off wanton spirits. The night air is clammy, but the atmosphere fragile. A self-conscious band of friends and the odd stranger have surrounded a winsome pop group on stage, the type which needfully purchase Smiths records, to see what they might get out of them. The generous tenderness of a small band taking the waters for the first time is a joy to behold - The Siddeleys crystallise the structure with a flowing, quirky sound. The fists beat the air some more; futile and touching. So what do they get out of all this?
Well, a standard enough backing beat (two guitars, a female voice, soaring tunes, et al) but with enough input of character to make it their own. Songs which lift then linger then drift away gently down rolling slopes of blue. And a warm, warm feeling - as if, by witnessing this, the world's troubles are soothed away. Pure
The Legend! (NME)
Kennington Cricketers
The Siddeleys - one fine Medium Cool single already under their belt - seem better placed. Their ambling, jangling geetar-grating is coupled with some memorable, melancholy words that mark them down as prime contenders for the bedsitter berth left vacant by the demise of The Smiths.
Their formula is simple - '60s beat meets '80s miserablism - and in singer Johnny Johnson they have a coarse home counties voice to rival vintage Tracey Thorn with bittersweet lyrical treats that would open even the most tired eyes.
Handicapped at the moment only by a slightly wilful amateurism that would prefer to be heroically poor than arrogantly rich, they are still one of the few stitches of potential brilliance on a threadbare independent tapestry. Take a needle to their groove.
Adrian Thrills (NME)
The Falcon, London
Midway through 'Sunshine Thuggery', The Siddeleys' second song, Johnny Johnson raises her tambourine above her head like a halo. It's a striking pose; she's good at those, and even better at writing neat pithy pop songs. So, while canonisation for Johnny might be a trifle premature, serious respect and attention is overdue.
The 'Sunshine Thuggery' 12 inch was only less than brilliant because it was recorded cheaply and hastily. Here, on stage, The Siddeleys seem confident and composed, not now the stereotypical indie band that their name suggests, although they do look the part. Between them they have four fresh faces, two guitars and one pair of NHS glasses.
The guitars dash frantically from the start to the finish of each song, but still somehow generate enough variety of tone and texture to avoid monotony. There's some rattle amid all the buzz. Tonight's brightest highlight comes with the best item on the 12 inch, the ingenious 'Are You Still Evil When You're Sleeping?' Good question. Good band, rapidly getting better.
Dave Jennings (Melody Maker)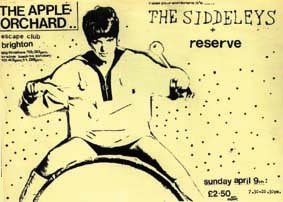 The Falcon, London
It was an odd sort of event - a combined celebration, wake and sauna. The Siddeleys had come to the end of their brief but sometimes quietly brilliant career; chanteuse and songsmith Johnny Johnson announced early on that this would be their final performance. Presumably word of this had spread in advance - Johnny kept greeting old friends and loyal Siddeleys supporters from out of town. She miraculously managed to keep looking cool in her neat white blouse, as the rest of us streamed with sweat.
It wasn't a perfect farewell performance - it couldn't be with the heat radiated by a hundred or so tightly confined bodies sending the band's guitars out of tune. Johnny struggled to make herself heard above her colleagues' bright rattle 'n' strum. But it was clear even here that she's a skilful word arranger with a special gift for poignancy and wistfulness.
Johnson will, she told me, shortly be re-emerging with a more sophisticated, less stereotypically indie outfit to be known as Armstrong. But, for all their obvious limitations, The Siddeleys managed some golden moments during this grand finale, and it's to be hoped that some of these songs will be salvaged. 'Are You Still Evil When You're Sleeping?' twisted and stung, and the gorgeous 'My Favourite Wet Wednesday Afternoon' helped us all melt.
'Thank you, thank you, goodnight and goodbye,' said Johnny at the very end. There wasn't a dry body in the house.
Dave Jennings (Melody Maker) (Actually nobody knew we were splitting up that night. In fact, we were so impressed by the large and loving turnout that we almost decided to stay together after all…)
Phew! Wow!
Another band with a heap of "if onlys" piled up on top of them, the Siddeleys are now long gone; just one flexi appearance back in the days of Sha-la-la, two EPs and one song on a compilation LP after the split. "What Went Wrong This Time?", the 'A' side on a Medium Cool three track 7", a boy on a bicycle on the front and "Summer 1987" on the back it all seems from the opening "ba-ba-bas" to a fadeout two minutes later, cute but NEVER sickly, it's just too spiky for that, the start of a thread of bitterness and angst that runs through a lot of the Siddeleys' stuff.
Turn the single over and there's "No Names", slower and more thoughtful somehow, then the classic "My Favourite Wet Wednesday Afternoon", revealing Johnny Johnson as a master (?!) of the bedsit poptune, "it's not that I want to be rich, I just want to be heroically poor", really I could tell you every line but the song still adds up to more than that, more than the sum of its parts; but it's stuck away on the 'B' side of a single owned by sickeningly few people, that THAT's what ultimately leaves me feeling sad about The Siddeleys, just as much as their "sight-of-the-façade-of-the-Palace- Hotel-Southend" English pop that no one else seemed to cotton on at the time, myself included I can still remember buying this record as something of an experiment, and it took its time to grow on me, but then all of a sudden its CHARM struck me, but I still never bothered to write to them to say
And then there was "Sunshine Thuggery", four songs on 12" only, and this isn't going to turn into and anti-12" rant but this time it is significant, stories of Gary Davies' producer foaming at the mouth over the 'A' side, but NO more money from Revolver, so NO 7" and NO daytime radioplay imagine Kev and Shaz singing along to "there are six hundred things of gross importance that I have to say" Johnny could never be described as a technically brilliant singer, but imagine her deliciously deadpan delivery on "Top of The Pops" bouncing bass, fab trumpet (!) Melody and those sexy "oh honey"s at the end YUM YUM !!
And the 'B' side is all anger, I mean great pop 'n' all that, but there's ANGER in this girl's heart; "Are You Still Evil When You're Sleeping?" is positively savage, "Bribes and Bruises" all lost ideals and wasted lives, and as for "Falling Off Of My Feet Again" "the longing of the night gives way to the darkness of the dawn ", this is powerful stuff indeed, could you call it DESPAIR?!
Which makes "Love Grows (Where My Rosemary Goes)" something of an odd epitaph really, doesn't it? A stand-out track on a Anti-Poll Tax compilation full of "wacky" 70s covers, stand-out because it's done pretty much straight (so to speak), it's just funny to Johnny and her lovely deep voice singing "I'm a lucky fella " Do you know something folks? This could be camp!!!
From Phew! Wow! fanzine 1990 written by Mike Innes
Fantastic Life 3
YOUR KNUCKLES ARE WHITE WITH THE SEEDS TO BE SOWN
I wanted to write a formal eulogy for The Siddeleys, a memorial or headstone so that everyone who had ever heard them could say, "He wasn't exaggerating you know, they really were that special". I mean, this isn't an "I told you they'd split up if you didn't buy their records and dance at their gigs with huge inane grins on your chops and jump up and down to "You Get What You Deserve" in your bedroom and write them love letters" tirade. But it looks like it is now, 'cause I've just delivered it. They were lumped in with the "love" songs of inferior bands who casually mentioned emotions they never seemed to have felt; all crumpled up and sad; that's The Siddeleys now.
Part of it was the unexpected causticity with which Johnny Johnson sung – "Are YOU Still Evil When You're Sleeping?" is still such an outrageously slanderous song I have to keep pinching myself and listen again.
3 reference points on the map of the 1980s:
WHEREVER YOU GO. "The awesome wonder of that first fragile moment."
SUNSHINE THUGGERY. "Oh honey, oh honey"
I WISH I WAS GOOD. "Your brown eyes waiting for someone to drown Your fall apart wardrobe and your Brando-boy frown You've only to half- grin and I'm on the ground."
Strange she could say those things; I couldn't say them and they're about people my age and younger.
But sort of wonderful too.
Goodnight Siddeleys, goodnight.
Fantastic Life fanzine no.3
Precious
Swinging off lampposts, smiling cars, gleaming chrome a nostalgic feeling, harking for a past you don't even remember. Days spent in rising dust and still heat, a favourite canal, a yard of ale. How can you be lonely when you're got yourself?
Questions and insights this is the world of The Siddeleys and it's a world we all know. A world of bitter, biting disappointment and injustice of stamping your foot at the world and turning and knowing you're right. And it would be oh so cliched if it wasn't done in such CLASSIC STYLE – note these are carefully chosen words. The Siddeleys are riding that classic Harley it's big, powerful, beautiful, romantic an overwhelming, intoxicating feeling of control, of independence why did that last sign say 50 miles to destiny? Ignore it! The Siddeleys have created an extraordinary limbo world which could be any time in the last thirty years, it's called teenage and it's a place nobody wants to be until they've left. It's not an ideal, these kids don't know what Milk (Malt?)Bars are it's a grotesque world of monstrous dares, beery uncles, of "desperate love stuff in the dark". Small parts in this world are rushing excitement, more often it's choking strangulating fear of mostly it's boredom, kicking cans – you've cycled past more girls houses than you've ever spoken to. This girl is telling you the story of a life and it's done in such beautiful inspiring language that it knocks you clean off your chair./p>
Precious fanzine
Slum Clearance I
Every minute of every day, there is an amazing unknown band playing in a garage or practice space somewhere. They know the disappointment in performing to an un-appreciative audience and they know the joy of being the local opener for one of their favourite groups. Most never make it to the airwaves or magazines. Between 1986 and 1989, the Siddeleys almost crossed over and they have the Peel Sessions (both of which are included on the Slum Clearance compilation) to prove it. Musically, the London band shares billing with indie-pop notables Tallulah Gosh and early Primal Scream, but their misery-loves-melody philosophy recalls the Smiths – albeit with a substantially smaller recording budget. Like the Great White Mope, Siddeleys chanteuse Johnny Johnson crams a lot of syllables into one breath. And song titles such as "Are You Still Evil When You're Sleeping?" and "You Get What You Deserve" give a clear indication of the sentiments contained in the lyrical body. Feel-good-no-brainers these are not, though upbeat tempos, cutie-pie female harmonies, and a digestible amount of la-la's and ba-ba's sit pretty in self-aware contrast. It's perfectly natural to approach reissues of obscure bands with suspicion and doubt; for each lost gem there are hundreds of records better off forgotten. Slum Clearance, which gathers nearly all of the Siddeleys' output, reveals its exceptional status from the first hair raising jangles.
Philadelphia Weekly - July 2001
Slum Clearance II
I've also been playing a clutch of releases on the Matinee label recently, most notably the Slum Clearance compilation by late '80s forgotten should-have-been-stars The Siddeleys. The Siddeleys made just a couple of singles in their time that were beloved of fey indie- popsters and that's maybe why I sold mine for too much money back in the times when records were less vital than food, regardless of the fact that really I thought songs like 'What Went Wrong This Time', 'Are You Still Evil When You're Sleeping' and 'Sunshine Thuggery' were really rather masterful slices of Pop exuberance with a glinting silver edge. They still sound so today, and the wonderful sleeve notes by singer Johnny Johnson which talk of outsiders, nail varnish, the importance of hairdressers and tailors and strange glamour- rockers Raymonde make the point that really The Siddeleys were way beyond the dreary dress-senseless middle-classes who seemed for a long time to epitomise the kinds of UK 'indie-kids' who bought their records first time around, and were in fact out somewhere else, inhabiting their own world, orbiting somewhere just out of reach. Which is probably why they got forgotten at the time.
But despite it all, two Peel sessions and a reasonable (although hardly excessive) amount of fanzine coverage, the Siddeleys called it a day. I only saw them live once, Manchester Boardwalk, poor sound and an apathetic audience leading to a frustrated band. Even so, Johnny's charisma and a tight set of songs shone through and confirmed to me the WORTH of The Siddeleys. Johnny Johnson's new "project", Armstrong, hasn't seen the light of day yet but I just hope they aren't lost on people in the way that The Siddeleys undoubtedly were
Slum Clearance III
Female British pop-soft melodies and lush harmonies. Some say they're part Smiths, part Talulah Gosh. I can hear similarities between Talulah Gosh, but the Smiths reference looses me. Morrissey was always so whiny, and annoying, this isn't. This is a collection of music that the Siddeleys released back in the 1980s. For fans of Talulah Gosh, Lush or Go Sailor.
KSCU Online July 2001
Slum Clearance IV
One wonders how many times this is going to keep happening. By that I mean groups who never saw the light of day 12 years ago getting LP's put out that are so good it makes you wonder what the hell everyone was thinking of back then. I clearly remember having this band on my "to get" list back in those days of yore, but also remember not being able to find anything by them. (I believe their output was a mere 3 singles) This compiles all of them plus some Peel Session songs and other rarities into a stunning LP. Singer Johnny Johnson (he's a she) has a great voice, and it reminds me quite a bit of Alex Taylor (I believe it's Taylor) of Shop Assistants/Motorcycle Boy fame, who's voice I love. Musically, it has all the driving British indie angst you could want, comparisons to the Smiths being all too liquid and ready on the tongue. That comparison gets closer to being made upon consideration of the songs lyrics, which are a beautiful torrent of hate, despair and lonliness coupled to the shining beauty of eternal hope. They didn't include the lyrics on the sleeve, although there is a long booklet detailing their struggles as they wanted the listener to form their own imagery. For example, it does sound like she says "do you look down on Lou Reed?" in the opening cut, My Favorite Wet Wendsday Afternoon, but she doesn't. Maybe it is best unread, just heard. (the lyrics can be downloaded on their site, www.siddeleys.com) The second track, You Get What You Deserve is so completly brilliant, so full of the stuff that really defined mid 80's indie britpop, I can hardly contain myself when I hear it. The lyrics easily being confused with something Moz must have written..
The whole LP is very good, although some of the latter tracks pale against the beginning ones, still there are no throwaway cuts on this outing, or lifes work as it were. If ever there was a no brainer, it's this. For the love of all things indie, just buy it already. Now, if only I can get Phils back stuff out......
Indie Spin Zone 2001
Slum Clearance V
Slum Clearance compiles all the songs that The Siddeleys issued back in the 1980's. Jointly released by Matinee Recordings and Clarendon Records, the sixteen songs were taken from a bunch of really rare singles, Peel Sessions and some compilation appearances.
Slum Clearance collects some of the unspeakably unknown guitar pop treasures of the past. Now springing back to life, even after years of their original release, the songs still leave a sweet taste in your mouth. The opener is living proof of this, My Favourite Wet Wednesday Afternoon - a wistful track with trouble-free guitars and yearning vocals courtesy of Johnny Johnson. Sunshine Thuggery in the meantime have guitars strummed furiously fast and harmonious trumpets complimenting charmingly with Johnny's "Oh honey, Oh honey" singing, making it a wonderfully guitar pop tune. Some of the outstanding tracks in this collection, like What Went Wrong This Time?, Something Almost Brilliant Happened Last Night and the gorgeously melancholic Love With Blood, only prove that The Siddeleys are proficient in weaving perfect jangle pop moments and memorable melodies.
Without a doubt, Slum Clearance is one of the best albums of 2001, even if the songs in it were originally released more than ten years ago.
Pinoy Central 2001